---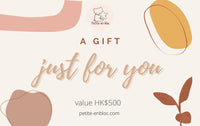 Looking for the perfect gift for the little ones? You can never go wrong with a gift voucher!
How to use:
You'll get a unique redemption code via email after your purchase. Send the redemption code to your friends and they can use at checkout to redeem its value within 18 months after your purchase.
Terms and Conditions:
- Gift cards can be used more than once, provided there is still a balance remaining on the card.
- For purchase over the value of gift card, the amount difference will be charged.
- Gift cards are valid for 18 months (from the date of purchase), and once the payment is verified, it cannot be refunded, returned or exchanged.

Petite en bloc reserves the right to change any of these terms and conditions. Notice of any such changes will be posted by updating the Gift Card Terms and Conditions, and in the event of any dispute, Petite en bloc reserves the right of final decision.